Overlord Anime Characters that base its plot on MMORPGs, being that the protagonist is trapped inside his character in the virtual game. But is it in a game or in the real world? Suddenly the NPCs (non-player characters) have character, will, and conscience; while Momonga is losing the mentality of a player and gaining the personality of an undead: somewhat indifferent and distant.
With all the changes that the characters undergo during the series' journey, reflecting all the qualities and thoughts they have in their graphic design can be a complicated task. There are many details that must be taken into account when illustrating the animated characters. Many times viewers overlook these details -especially with subtitled animes-, so we made this list to bring you the top 10 designs of the Overlord characters.
10. Solution Epsilon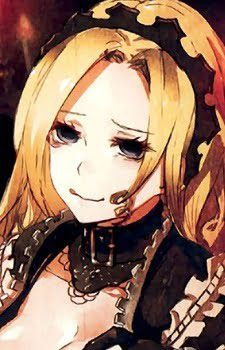 The solution does not appear much in the anime, but within the Pleiades, she is one of the most present in Overlord. To infiltrate and ambush humans, she wears Victorian-era dresses, attracting male glances with clothes that enhance her chest. However, the facial design and gestures make it clear that she is nothing more than a monster who only wishes to serve her superiors and feed on humans. Perhaps compared to other characters in this series, she is somewhat simple, but the creepy effect they achieved with Solution's design is worthy of appearing on this list.
9. Peroroncino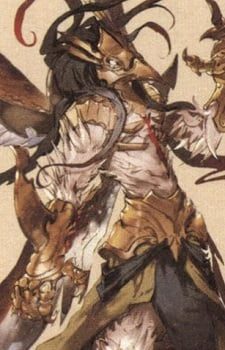 You may not remember this character much since he appears only a few seconds in the anime in memory of Shaltear, his creation. Being one of the members of the Ainz Ooal Gown guild, Peroroncino is a very strong person who wears shining armor, a beak mask, and wings. With some messy hair and some furry clothes, her image simulates a large golden and white bird. Definitely, the design of this character is remarkable for the beauty of his clothes, a way to enhance how great and powerful he was at the time.
8. Demiurge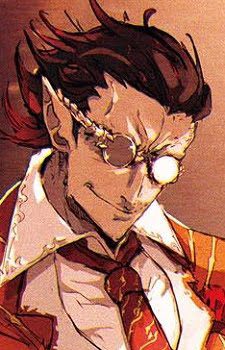 Created by Ulbert Alain Odle, Demiurge is the guardian of the seventh floor, the one in charge of the defense of the Tomb of Nazarick. He wears some strange glasses, perhaps symbolizing how smart and strategic he is, or perhaps to hide some terrifying eyes. He is commonly dressed in a well-groomed red suit, they may have chosen this color to symbolize the fact that Demiurge is one of the cruelest and sadistic guardians. Although he almost always takes human form, he hides a horrible demonic transformation that is seen only once during the anime.
7. Narberal Gamma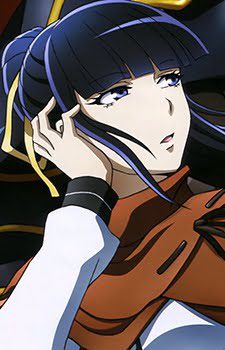 Narberal's gentle eyes reveal her calm personality, while her neat hairstyle reveals that she is a neat person, like a typical maid. Inside the Tomb of Nazarick, she is dressed as a traditional French maid, with an apron and her long skirt suit. Perhaps the strange thing, or not so strange, is that to fight he wears the same clothing but with a few added metallic details, something quite practical for a spellcaster like Narberal. To go unnoticed among humans, she wears a shirt, pants, and cape, clothing that also serves to pretend to enemies that she fights hand-to-hand with a sword.
6. Sebas Tian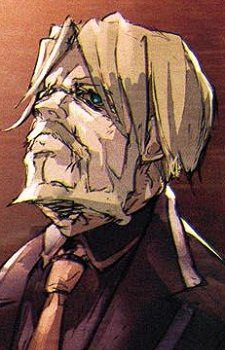 Sebas Tian is perfect as the name of the chief butler, even this detail is perfect in character. The always serious face, the aged appearance, the gray hair, even the neatly groomed beard, are classic traits for an individual of his style: a man loyal to his master, ready to fulfill any task that is given him. On the other hand, he wears a classic butler outfit, subtle and well-groomed. Sebas's black suit, white gloves, and tie are common symbols that give away his profession.
5. Gazef Stronoff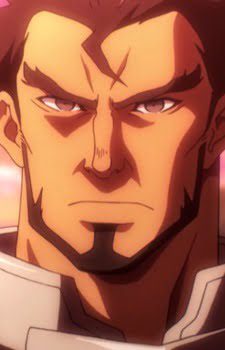 Through his armor, a silver metallic medieval-style clothing, this character reflects his profession: a warrior, leader of a squad, willing to sacrifice himself for the well-being of his companions. Certainly Gazef's seriousness and determination show in every gesture on his face. The beard, his prominent eyebrows, and the facial design highlight the masculinity of a fighter like him, who in the series may not be a winner, but he does not give up even in the last moment of the fight.
4. Clementine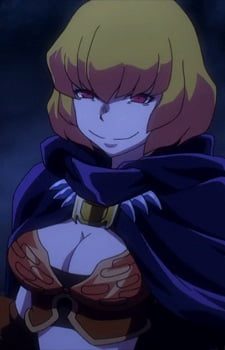 No one can deny that this character is one of the most hated within Overlord, but his character design is great because it reflects the murderous madness he possesses. Her large eyes with small pupils show the completely unhinged side of Clementine, while her big and exaggerated smile expresses the sadistic enjoyment of the suffering of others. However, it is her clothes that prove how crazy and murderous Clementine became during her lifetime.
She wears a long black cape, something quite common among murderers who wanted to go unnoticed in the dead of night, but which may not fit Clementine's egotistical personality. But on the contrary, he wears shiny metal claws, eye-catching objects that perfectly match his character. No one will disagree that what stands out the most about her clothing is her armor, minimal protection made with badges from the members of the guilds that she herself was assassinating. That innovative and sadistic touch gives an amazing effect to the design of this character.
3. Albedo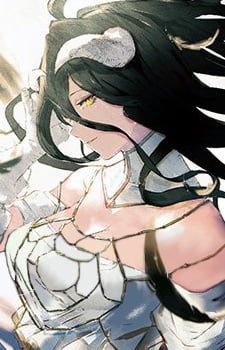 Recall that the first episode shows that Albedo has the description of "nympho woman", something programmed by its creator Tabula Smaragdina. Continuing with that, it is not uncommon for her to wear very seductive and revealing clothes, although the color white can be somewhat contradictory, a typical hue to symbolize purity, but which is perfect with her pale and delicate figure. To differentiate her from the humans she hates so much, her body design consists of horns and black wings, a way of symbolizing her demonic and cruel side.
As the superior of the Guardians of the Tomb of Nazarick, her strength and power are highly reflected when she wears her armor. A detail to take into account in this garment is that it has a space for the horns on its head and that its wings are symbolized – perhaps converted – in the two-part cape that hangs from its waist.
2. Shalltear Bloodfallen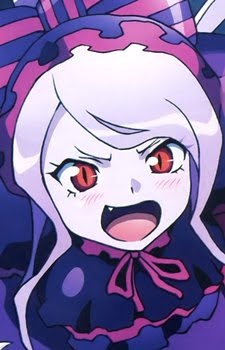 Shalltear takes second place thanks to the amount of detail that her character has. She has red eyes with elongated pupils, a characteristic quite typical of modern vampires. The tips of its fangs also protrude into its mouth. And finally, being undead or undead, she always looks young as if time and age were not reflected in her.
However, the most important detail of Shalltear lies within the design of the clothes. She usually wears a Victorian-style dress, representing the time (the late 1800s) when the vampire myth had its first heyday, thanks to the publication of the book "Dracula." On the other hand, in the final chapters, she appears dressed in her battle armor: a shining red metal dress, which shows that the vampire likes to be feminine in any area … except when she takes her true form.
1. Momonga "Ainz Ooal Gown"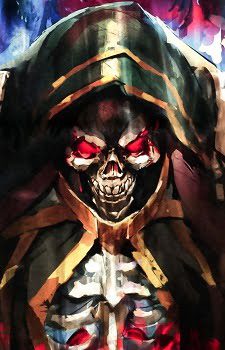 Although probably because he is the protagonist of the anime, this character has a special dedication in his design. There are many details to take into account, such as the fact that Momonga's skull does not open and close when he speaks, and that he does not show expressions, except for the occasional "drop" of the jaw. Although his body is a skeleton, it is large and formidable, thus showing how imposing and important his role represents within the anime and the Tomb of Nazarick.
As a magic caster, Momonga wears the classic wizard/sorcerer garb (characters who under normal circumstances do not wear metallic garments): a hooded cloak, which conveniently is attached at the waist, thus leaving only the chest uncovered (sexy ribs! !). As a warrior, he wears magical armor that covers his entire skeletal body, going unnoticed by humans. The design of this is very dedicated and reflects what several of the characters that cross it in the series say: the armor looks expensive and has an intimidating aura, of superiority, thus highlighting that Momonga is extremely strong and skilled in his two forms.
---
Overlord is an anime that has many well-designed characters, although most appear little during the course of the anime, either because they die early or because they are seen in isolated scenes, such as Peroroncino or Touch Me, which are only seen for a few seconds thanks to the memories of other protagonists. In this space, we also want to highlight a great character, a scary giant animal with a serpent's tail, feared by all humans: the Virtuous King of the Forest, Hamusuke. Well, maybe not … but he deserved to be mentioned just for being Momonga-sama's giant hamster!
Do you think that a character has been missing? What is your favorite? You can leave us your comments telling us your opinion about this great anime!